Welcome to my comprehensive video analysis service for basketball players. If you're looking to take your game to the next level, you're in the right place. Over 30 years of experience as a former player and coach, the skills and knowledge necessary to provide top-notch analysis of your basketball skills are here at your service.

Experience as a player and a coach, combined with a MAD dedication to detail, guarantee that every aspect of your game goes under the microscope!
This video analysis service offers three different packages to suit your needs:

⦿ The Basic offers analysis of one highlight video and one full game.
Components such as footwork, shooting form and in-game reactions are analyzed and the full report is being sent via email.

⦿ The Premium package offers a more in-depth analysis of your overall game, including offensive and defensive strategies, as well as personalized coaching tips to improve your performance. Analyzing one Highlight video and two full games, the report is being sent via email, plus you get one live call to go through more details one on one.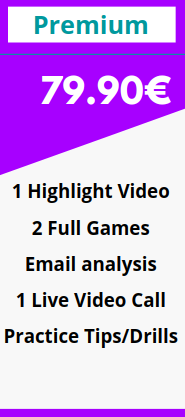 ⦿ For players looking for a fully customized analysis, the Elite package includes a 3-month one-on-one consultation, where we'll work together to identify your strengths and weaknesses and develop a personalized plan to help you reach your full potential. As a bonus, mental training sessions are provided for developing mental skills and strategies that can enhance performance on the court.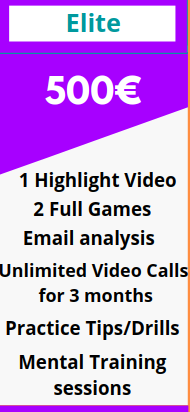 My goal is to help you take your game to the next level, whether you're a beginner just starting out or an experienced professional looking to refine your skills. With this video analysis service, you'll get the feedback and coaching you need to improve your game and take your basketball skills to the next level.

Please fill out this form to get started!